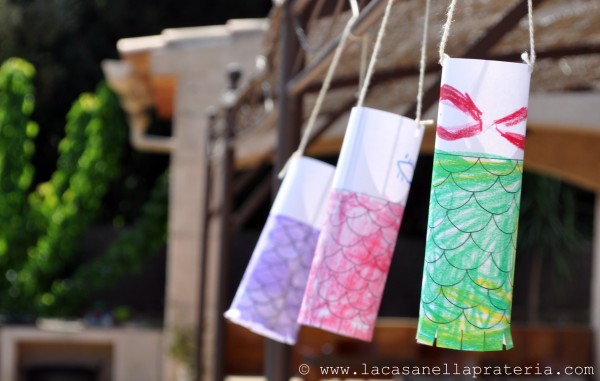 Japanese people celebrate Kodomo no hi (Children's day) on May 5th. Familes with children hoist Koinoburi (colorful carp-shaped streamers) above their homes.
On her website yogainmyschool.com, Donna Freeman explains that:
"The black & biggest carp represents the father, the next biggest and red the mother, subsequent carp vary in color and size with blue for first son, then green, purple, orange in smaller sizes for subsequent sons".
We feel particularly concerned about Japan this year and we are going to celebrate their Children's Day as a way of honoring Japanese traditions. As a homage to all the children who lost their families and the families who lost the children during the terrible earthquake of March 11th.
If you want to make your own Koinoburis you can print our templates here.  I did not draw the eyes because I thought each child would like to add their personal touch.